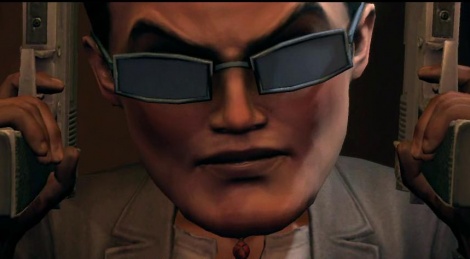 A necessary post given our own Mr Mobiletone is most likely at work and wondering...
I've had a couple of hours, and it's really really good.
One thing I expect in a modern game is a clear and responsive user interface, not just the menus but extending to the way cut scenes work. SR3 does not need the cut scenes skipped to get in the action, as the mission details are explained while you play. When you fail/complete a mission, the screens look great and are quick and get the point across in a satisfying manner. They really worked on this 'keep the player having fun' factor and IT DOES IT BETTER THAN ANY OTHER GAME I'VE PLAYED.
Sandbox is an overused word, as rarely do you feel you can go anywhere and do anything. Grand Theft Auto started it then lost the plot somewhat, Saints Row plagiarised so much, but here they've improved on the format in almost every respect. I kid you not. For example:
Talk about straight into the action. No spoiler, but a top first mission in seconds of starting!
Guns are fun, accurate, vary well, zoom works well, ammo is no tighter than necessary but not free etc.
Stealing cars has a wide variety of animations and outcomes, right up to immediate steals by jumping through windscreens etc.
After 2-3 missions and a couple of sides I was genuinely spoilt for choice - a round of Genki (OMG that is amazing - a murdering game show against the clock though fire traps etc - very 'Running Man'), assassinations, drug running, gang killing events - all without needing to drive for 5 minutes to get there. Great map, great smartphone system for finding/selecting everything - wonderful.
Cars handle even better than before, fast, easy yet mental too. Hazah!
Good story line so far, no sign of letting up.
Any downsides?
I don't like the hair customisations, a few more would have been good. I wanted to recreate my SR2 character and I can't get very close at all.
I can't play a game with a 4 foot long dildo weapon with my 11 year old daughter.
Enjoy...